Tracking / Pulling / Agitation
Leather Dog Harness for Doberman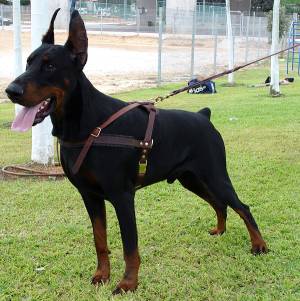 Tracking / Pulling / Agitation Leather Dog Harness :
Padded and Adjustable : Designed to Fit Your
Doberman just Perfect
Description
Professional full leather tracking/pulling harness.This is another truly beautiful piece of hand made working dog equipment! One of the best available harnesses.The Doberman-breed pulling / tracking harness is some of the most functional and handsome on the market today. A precisely designed breast strap is lined with extra thick felt to offer supreme comfort for your dog and to absorb the shock of a strong dog during pull work.The harness is designed in 4 different sizes and therefor fits almost any dog.It's three way adjustable so you can adjust it to fit to your dogs dimensions.Once all straps are adjusted, the harness can be quickly put on the dog by using only one quick release buckle and strap using only one hand.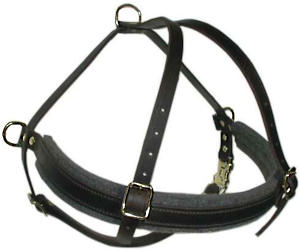 This dog harness is handmade from high quality, heavy duty strong leather.It is flexible and will not rub or wear into the skin of your dog. Designed so the resistance is on the shoulders and chest - not on the throat our pulling / tracking harness allows dogs to bark and track in free way and still be restrained enough.Straps are 1 1/4 " wide, and assembled using capped rivets for extra durability.Made of finest quality soft and strong leather with solid brass buckles and rings that won't rust for long life.D rings are stitched and rivetted so they won't pull out.This tracking / pulling harness is valuable tool when our agitation harness is too heavy for long tracks and too restraining for pulling work,designed to withstand the rigors of professional pulling duties.Our tracking/pulling harness will quickly become your favorite trial or training equipment!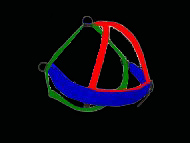 Large
Around the chest behind the front legs(green color on the picture): 28-37 inch
Around the neck of the dog(red color on the picture): 28-35 inch
Chest strap(blue color on the picture): 25 inch

Medium
Around the chest behind the front legs(green color on the picture): 26-34 inch
Around the neck of the dog(red color on the picture): 20-27 inch
Chest strap(blue color on the picture): 23 inch


Buy this Tracking/Pulling/Agitation leather harness now - $42.90

Doberman breed > Doberman Harnesses >